Are the escalators or elevators closer to Section 520 at Angel Stadium?
Feb 2013
Answered by RateYourSeats.com staff...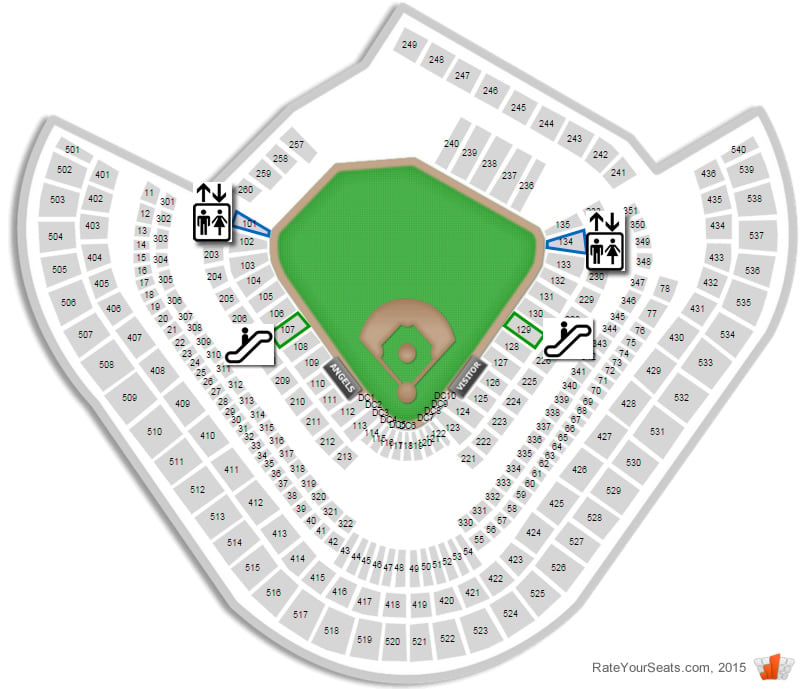 There are two elevators at the stadium, one near the left field foul pole (just outside section 101) and another near the right field foul pole (outside section 134).
There are two escalators at the stadium which are located more towards home plate, just outside section 107 (near third base), and section 129 (near first base).
Your seating section is located directly behind home plate, and from this location the escalators are closer (each of the escalators) should be equidistant from your section.
One important thing to note though is that the escalators run only upward for most of the game, and only get switched to moving downward in the later innings. So if you need to get down to a lower level during the middle of the game, you might have to head to one of the foul poles to use the elevators.
Asked February 05, 2013 for Spring Training - Los Angeles Dodgers at Los Angeles Angels of Anaheim on Mar 28, 2013
Interactive Seating Chart
Other Popular Seating Choices
Event Schedule
Minnesota Twins at Los Angeles Angels of Anaheim

Angel Stadium - Anaheim, CA

Friday, April 16 at 6:38 PM

Minnesota Twins at Los Angeles Angels of Anaheim

Angel Stadium - Anaheim, CA

Saturday, April 17 at 6:07 PM

Minnesota Twins at Los Angeles Angels of Anaheim

Angel Stadium - Anaheim, CA

Sunday, April 18 at 1:07 PM

Texas Rangers at Los Angeles Angels of Anaheim

Angel Stadium - Anaheim, CA

Monday, April 19 at 6:38 PM

Texas Rangers at Los Angeles Angels of Anaheim

Angel Stadium - Anaheim, CA

Tuesday, April 20 at 6:38 PM

Texas Rangers at Los Angeles Angels of Anaheim

Angel Stadium - Anaheim, CA

Wednesday, April 21 at 1:07 PM

Baltimore Orioles at Los Angeles Angels of Anaheim

Angel Stadium - Anaheim, CA

Friday, July 2 at Time TBA

Baltimore Orioles at Los Angeles Angels of Anaheim

Angel Stadium - Anaheim, CA

Saturday, July 3 at Time TBA

Baltimore Orioles at Los Angeles Angels of Anaheim

Angel Stadium - Anaheim, CA

Sunday, July 4 at Time TBA

Boston Red Sox at Los Angeles Angels of Anaheim

Angel Stadium - Anaheim, CA

Monday, July 5 at Time TBA

Boston Red Sox at Los Angeles Angels of Anaheim

Angel Stadium - Anaheim, CA

Tuesday, July 6 at Time TBA

Boston Red Sox at Los Angeles Angels of Anaheim

Angel Stadium - Anaheim, CA

Wednesday, July 7 at Time TBA

Seattle Mariners at Los Angeles Angels of Anaheim

Angel Stadium - Anaheim, CA

Friday, July 16 at Time TBA

Seattle Mariners at Los Angeles Angels of Anaheim

Angel Stadium - Anaheim, CA

Saturday, July 17 at Time TBA

Seattle Mariners at Los Angeles Angels of Anaheim

Angel Stadium - Anaheim, CA

Sunday, July 18 at Time TBA

Colorado Rockies at Los Angeles Angels of Anaheim

Angel Stadium - Anaheim, CA

Monday, July 26 at Time TBA

Colorado Rockies at Los Angeles Angels of Anaheim

Angel Stadium - Anaheim, CA

Tuesday, July 27 at Time TBA

Colorado Rockies at Los Angeles Angels of Anaheim

Angel Stadium - Anaheim, CA

Wednesday, July 28 at Time TBA

Oakland Athletics at Los Angeles Angels of Anaheim

Angel Stadium - Anaheim, CA

Thursday, July 29 at Time TBA

Oakland Athletics at Los Angeles Angels of Anaheim

Angel Stadium - Anaheim, CA

Friday, July 30 at Time TBA

Oakland Athletics at Los Angeles Angels of Anaheim

Angel Stadium - Anaheim, CA

Saturday, July 31 at Time TBA

Oakland Athletics at Los Angeles Angels of Anaheim

Angel Stadium - Anaheim, CA

Sunday, August 1 at Time TBA

Toronto Blue Jays at Los Angeles Angels of Anaheim

Angel Stadium - Anaheim, CA

Tuesday, August 10 at Time TBA

Toronto Blue Jays at Los Angeles Angels of Anaheim

Angel Stadium - Anaheim, CA

Wednesday, August 11 at Time TBA

Toronto Blue Jays at Los Angeles Angels of Anaheim

Angel Stadium - Anaheim, CA

Thursday, August 12 at Time TBA

Houston Astros at Los Angeles Angels of Anaheim

Angel Stadium - Anaheim, CA

Friday, August 13 at Time TBA

Houston Astros at Los Angeles Angels of Anaheim

Angel Stadium - Anaheim, CA

Saturday, August 14 at Time TBA

Houston Astros at Los Angeles Angels of Anaheim

Angel Stadium - Anaheim, CA

Sunday, August 15 at Time TBA

San Diego Padres at Los Angeles Angels of Anaheim

Angel Stadium - Anaheim, CA

Friday, August 27 at Time TBA

San Diego Padres at Los Angeles Angels of Anaheim

Angel Stadium - Anaheim, CA

Saturday, August 28 at 6:07 PM

New York Yankees at Los Angeles Angels of Anaheim

Angel Stadium - Anaheim, CA

Monday, August 30 at Time TBA

New York Yankees at Los Angeles Angels of Anaheim

Angel Stadium - Anaheim, CA

Tuesday, August 31 at Time TBA

New York Yankees at Los Angeles Angels of Anaheim

Angel Stadium - Anaheim, CA

Wednesday, September 1 at Time TBA

Texas Rangers at Los Angeles Angels of Anaheim

Angel Stadium - Anaheim, CA

Friday, September 3 at Time TBA

Texas Rangers at Los Angeles Angels of Anaheim

Angel Stadium - Anaheim, CA

Saturday, September 4 at Time TBA

Texas Rangers at Los Angeles Angels of Anaheim

Angel Stadium - Anaheim, CA

Sunday, September 5 at Time TBA

Texas Rangers at Los Angeles Angels of Anaheim

Angel Stadium - Anaheim, CA

Monday, September 6 at Time TBA

Oakland Athletics at Los Angeles Angels of Anaheim

Angel Stadium - Anaheim, CA

Friday, September 17 at Time TBA

Oakland Athletics at Los Angeles Angels of Anaheim

Angel Stadium - Anaheim, CA

Saturday, September 18 at Time TBA

Oakland Athletics at Los Angeles Angels of Anaheim

Angel Stadium - Anaheim, CA

Sunday, September 19 at Time TBA

Houston Astros at Los Angeles Angels of Anaheim

Angel Stadium - Anaheim, CA

Monday, September 20 at Time TBA

Houston Astros at Los Angeles Angels of Anaheim

Angel Stadium - Anaheim, CA

Tuesday, September 21 at Time TBA

Houston Astros at Los Angeles Angels of Anaheim

Angel Stadium - Anaheim, CA

Wednesday, September 22 at Time TBA

Houston Astros at Los Angeles Angels of Anaheim

Angel Stadium - Anaheim, CA

Thursday, September 23 at Time TBA

Seattle Mariners at Los Angeles Angels of Anaheim

Angel Stadium - Anaheim, CA

Friday, September 24 at Time TBA

Seattle Mariners at Los Angeles Angels of Anaheim

Angel Stadium - Anaheim, CA

Saturday, September 25 at Time TBA