Center Ice Club at PNC Arena
Features & Amenities
Fans sitting in any seating row of lower level sections 103-105 and 118-120 will find themselves enjoying the benefits of being a part of the Center Ice Club.
Aside from the excellent viewing position near center ice, fans here will be treated with access to some of the arena's most upscale areas, including the Club Level concourse, Arena Club, and the Ledge Lounge.
Club Notes

Sections 103-105 will be located behind the team benches. The Hurricanes will sit in front of section 105 while the visitors will be in front of section 103.
Each side has its own club concourse directly behind the seats that fans can access easily depending on the side they are located.
Amenities available for hockey games. For other events, some amenities may not be available or offered.
Please note: Due to health and safety protocols in 2023, food availability, club access, wait service and other amenities are subject to change without notice.
Note: These seats are highlighted on the map
Interactive Seating Chart
Center Ice Club Seating Chart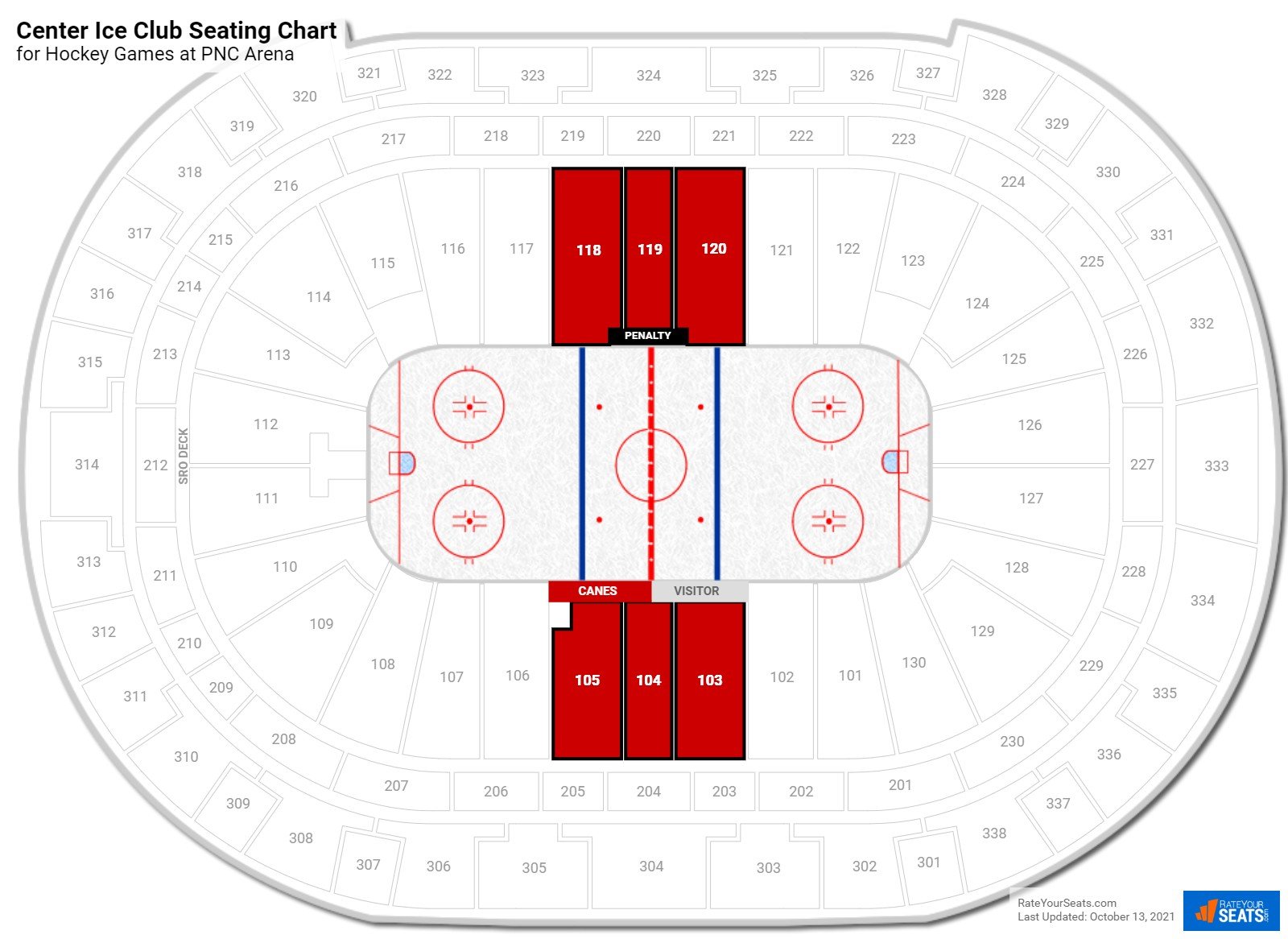 Center Ice Club Reviews
Ratings & Reviews From Similar Seats

"Boston Bruins at Carolina Hurricanes - Jan 29, 2023"

(Section 103) - -

Great view. Easy access.

"Great seats"

(Section 105) - -

Great seats right behind hurricanes bench.

" Big screen above stage obstructed by hanging supports for Cher show Jan 27, 2019"

(Section 104) - -

Good view of stage. Couldn't see big screen above stage due to major obstruction by supports which really took away from the experience. Might be OK for other shows with different stage configuration. I have neck issues and had problems due to angle I had to view from.
More Seating at PNC Arena
Event Schedule
27Sep

NHL Preseason - Florida Panthers at Carolina Hurricanes

PNC Arena - Raleigh, NC

Wednesday, September 27 at 7:00 PM

6Oct

NHL Preseason - Nashville Predators at Carolina Hurricanes

PNC Arena - Raleigh, NC

Friday, October 6 at 7:00 PM

15Nov

Philadelphia Flyers at Carolina Hurricanes

PNC Arena - Raleigh, NC

Wednesday, November 15 at 7:30 PM

18Nov

Pittsburgh Penguins at Carolina Hurricanes

PNC Arena - Raleigh, NC

Saturday, November 18 at 7:00 PM

24Nov

Tampa Bay Lightning at Carolina Hurricanes

PNC Arena - Raleigh, NC

Friday, November 24 at 8:00 PM

26Nov

Columbus Blue Jackets at Carolina Hurricanes

PNC Arena - Raleigh, NC

Sunday, November 26 at 5:00 PM

30Nov

New York Islanders at Carolina Hurricanes

PNC Arena - Raleigh, NC

Thursday, November 30 at 7:30 PM

15Dec

Nashville Predators at Carolina Hurricanes

PNC Arena - Raleigh, NC

Friday, December 15 at 7:30 PM

17Dec

Washington Capitals at Carolina Hurricanes

PNC Arena - Raleigh, NC

Sunday, December 17 at 6:00 PM

19Dec

Vegas Golden Knights at Carolina Hurricanes

PNC Arena - Raleigh, NC

Tuesday, December 19 at 6:00 PM

23Dec

New York Islanders at Carolina Hurricanes

PNC Arena - Raleigh, NC

Saturday, December 23 at 7:00 PM

28Dec

Montreal Canadiens at Carolina Hurricanes

PNC Arena - Raleigh, NC

Thursday, December 28 at 7:00 PM

13Jan

Pittsburgh Penguins at Carolina Hurricanes

PNC Arena - Raleigh, NC

Saturday, January 13 at 7:00 PM

10Feb

New Jersey Devils at Carolina Hurricanes

PNC Arena - Raleigh, NC

Saturday, February 10 at 7:00 PM