Features & Amenities
Section 329 was specifically placed in UBS Arena for the Blue and Orange Army - a fan group dedicated to supporting the New York Islanders.
When looking at the UBS Arena seating chart it is the only section on the level that starts with a 3. The section was purposely placed here for its proximity to the Tailgate Bar which is a large open concourse for fans to mingle in a tailgate-like atmosphere.
Fans sitting here for Islanders games should expect a loud and rowdy atmosphere.
Note: These seats are highlighted on the map
Interactive Seating Chart
Select Events
PHI

Flyers at Islanders

Sun. Oct 2 at 7:00 PM

NJ

Devils at Islanders

Thu. Oct 6 at 7:00 PM

NYR

Rangers at Islanders

Sat. Oct 8 at 7:00 PM

NYI

22-23

2022-2023 New York Islanders Season Tickets (Includes Tickets to All Regular Season Home Games)

Wed. Oct 12 at 12:55 PM

FLA

Panthers at Islanders

Thu. Oct 13 at 7:30 PM

ANA

Ducks at Islanders

Sat. Oct 15 at 7:30 PM

SJ

Sharks at Islanders

Tue. Oct 18 at 7:30 PM

NJ

Devils at Islanders

Thu. Oct 20 at 7:30 PM

NYR

Rangers at Islanders

Wed. Oct 26 at 7:30 PM

COL

Avalanche at Islanders

Sat. Oct 29 at 7:30 PM

CGY

Flames at Islanders

Mon. Nov 7 at 7:00 PM

ARI

Coyotes at Islanders

Thu. Nov 10 at 7:30 PM

CBJ

Blue Jackets at Islanders

Sat. Nov 12 at 7:30 PM

EDM

Oilers at Islanders

Wed. Nov 23 at 7:30 PM

PHI

Flyers at Islanders

Sat. Nov 26 at 7:30 PM

NSH

Predators at Islanders

Fri. Dec 2 at 7:30 PM

CHI

Blackhawks at Islanders

Sun. Dec 4 at 7:30 PM

STL

Blues at Islanders

Tue. Dec 6 at 7:30 PM

CAR

Hurricanes at Islanders

Sat. Dec 10 at 7:30 PM

FLA

Panthers at Islanders

Fri. Dec 23 at 7:30 PM

PIT

Penguins at Islanders

Tue. Dec 27 at 7:30 PM

CBJ

Blue Jackets at Islanders

Thu. Dec 29 at 7:30 PM

DAL

Stars at Islanders

Tue. Jan 10 at 7:30 PM

MIN

Wild at Islanders

Thu. Jan 12 at 7:30 PM

MTL

Canadiens at Islanders

Sat. Jan 14 at 7:00 PM

WSH

Capitals at Islanders

Mon. Jan 16 at 7:30 PM

BOS

Bruins at Islanders

Wed. Jan 18 at 7:30 PM

CAR

Hurricanes at Islanders

Sat. Jan 21 at 7:30 PM

DET

Red Wings at Islanders

Fri. Jan 27 at 7:30 PM

LV

Golden Knights at Islanders

Sat. Jan 28 at 7:30 PM

SEA

Kraken at Islanders

Tue. Feb 7 at 7:30 PM

VAN

Canucks at Islanders

Thu. Feb 9 at 7:30 PM

OTT

Senators at Islanders

Tue. Feb 14 at 7:30 PM

PIT

Penguins at Islanders

Fri. Feb 17 at 7:30 PM

WPG

Jets at Islanders

Wed. Feb 22 at 7:00 PM

LAK

Kings at Islanders

Fri. Feb 24 at 7:30 PM

DET

Red Wings at Islanders

Sat. Mar 4 at 12:30 PM

BUF

Sabres at Islanders

Tue. Mar 7 at 7:30 PM

WSH

Capitals at Islanders

Sat. Mar 11 at 7:30 PM

TOR

Maple Leafs at Islanders

Tue. Mar 21 at 7:30 PM

BUF

Sabres at Islanders

Sat. Mar 25 at 5:30 PM

NJ

Devils at Islanders

Mon. Mar 27 at 7:30 PM

TB

Lightning at Islanders

Thu. Apr 6 at 7:30 PM

PHI

Flyers at Islanders

Sat. Apr 8 at 7:30 PM

MTL

Canadiens at Islanders

Wed. Apr 12 at 7:00 PM
Section 329 Seating Chart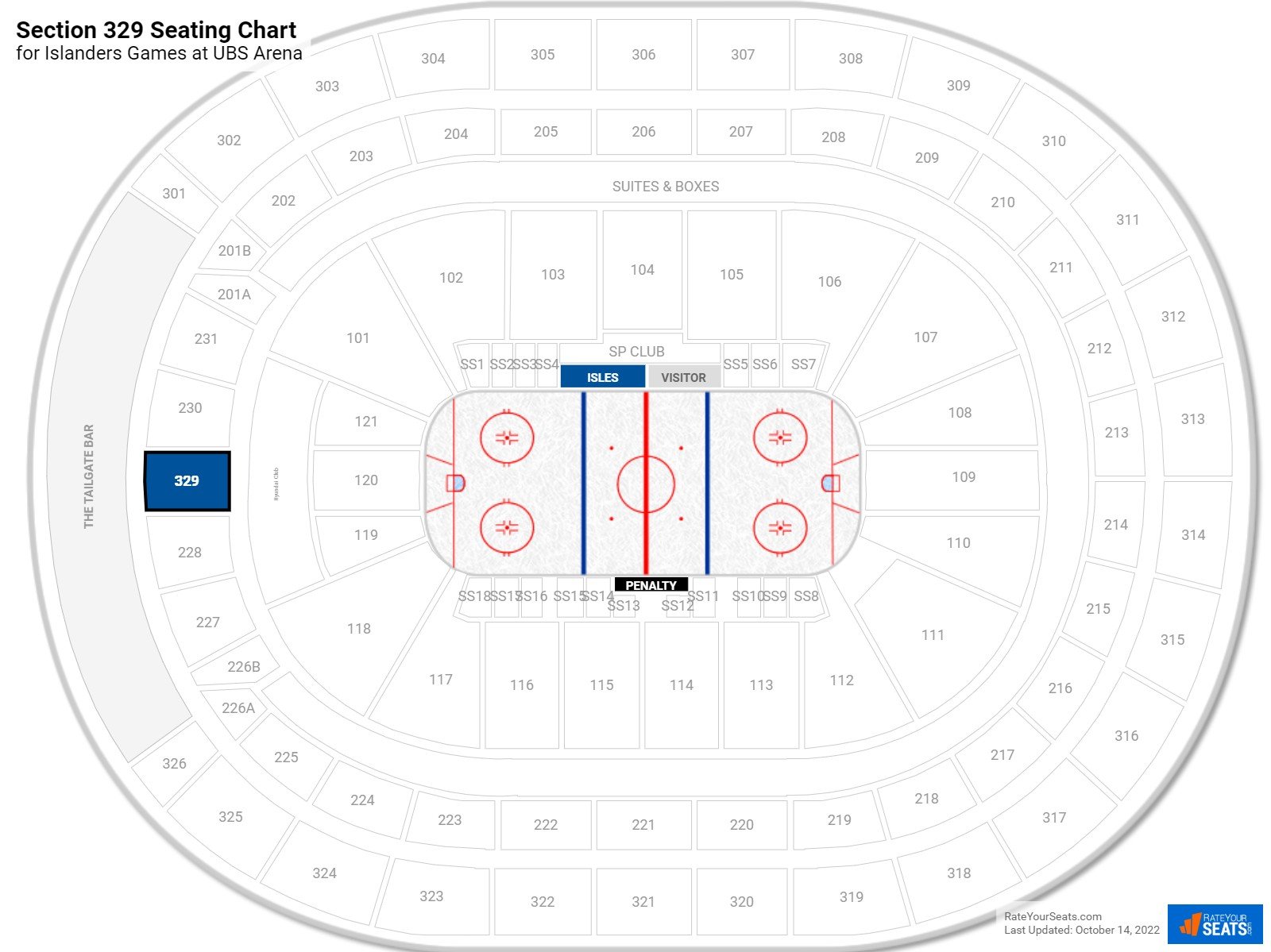 More Seating at UBS Arena
↑