Loge Boxes at Target Center
Features & Amenities
The Target Center Loge Boxes are one of the best ways to experience Timberwolves basketball from within ten rows of the court. These boxes combine exclusive benefits with a unique seating arrangement to create a memorable experience for ticketholders.
Loge Boxes are located behind each basket on the lower level and feature chairs set up at a table. Tables come with personal television monitors and plenty of space for you to place your all-inclusive food and drink. You'll also be treated to wait service at your seats so you never miss a moment of the action.
With just 40 seats available for each game, these tickets are even more exclusive than courtside seating!
Note: These seats are highlighted on the map
Map Highlighting

Select rows in section are part of this seating zone
Interactive Seating Chart
Select Events
MIN

All Timberwolves Games
BKN

Nets at Timberwolves

Fri. Oct 14 at 7:00 PM

OKC

Thunder at Timberwolves

Wed. Oct 19 at 7:00 PM

UTA

Jazz at Timberwolves

Fri. Oct 21 at 7:00 PM

SAS

Spurs at Timberwolves

Mon. Oct 24 at 7:00 PM

SAS

Spurs at Timberwolves

Wed. Oct 26 at 7:00 PM

LAL

Lakers at Timberwolves

Fri. Oct 28 at 7:00 PM

MIL

Bucks at Timberwolves

Fri. Nov 4 at 9:00 PM

HOU

Rockets at Timberwolves

Sat. Nov 5 at 7:00 PM

NYK

Knicks at Timberwolves

Mon. Nov 7 at 8:15 PM

PHX

Suns at Timberwolves

Wed. Nov 9 at 7:00 PM

MIA

Heat at Timberwolves

Mon. Nov 21 at 7:00 PM

GSW

Warriors at Timberwolves

Sun. Nov 27 at 2:30 PM

MIN

Memphis Grizzlies at Minnesota Timberwolves

Wed. Nov 30 at 7:00 PM

OKC

Thunder at Timberwolves

Sat. Dec 3 at 7:00 PM

IND

Pacers at Timberwolves

Wed. Dec 7 at 7:00 PM

CHI

Bulls at Timberwolves

Sun. Dec 18 at 6:00 PM

DAL

Mavericks at Timberwolves

Mon. Dec 19 at 7:00 PM

DAL

Mavericks at Timberwolves

Wed. Dec 21 at 7:00 PM

DET

Pistons at Timberwolves

Sat. Dec 31 at 7:00 PM

DEN

Nuggets at Timberwolves

Mon. Jan 2 at 7:00 PM

POR

Trail Blazers at Timberwolves

Wed. Jan 4 at 7:00 PM

LAC

Clippers at Timberwolves

Fri. Jan 6 at 8:00 PM

PHX

Suns at Timberwolves

Fri. Jan 13 at 7:00 PM

CLE

Cavaliers at Timberwolves

Sat. Jan 14 at 7:00 PM

UTA

Jazz at Timberwolves

Mon. Jan 16 at 3:00 PM

TOR

Raptors at Timberwolves

Thu. Jan 19 at 7:00 PM

HOU

Rockets at Timberwolves

Sat. Jan 21 at 7:00 PM

MEM

Grizzlies at Timberwolves

Fri. Jan 27 at 6:30 PM

SAC

Kings at Timberwolves

Sat. Jan 28 at 7:00 PM

SAC

Kings at Timberwolves

Mon. Jan 30 at 7:00 PM

GSW

Warriors at Timberwolves

Wed. Feb 1 at 7:00 PM

ORL

Magic at Timberwolves

Fri. Feb 3 at 7:00 PM

DEN

Nuggets at Timberwolves

Sun. Feb 5 at 6:00 PM

WSN

Wizards at Timberwolves

Thu. Feb 16 at 7:00 PM

CHA

Hornets at Timberwolves

Fri. Feb 24 at 7:00 PM

PHI

76ers at Timberwolves

Tue. Mar 7 at 6:30 PM

BKN

Nets at Timberwolves

Fri. Mar 10 at 7:00 PM

BOS

Celtics at Timberwolves

Wed. Mar 15 at 7:00 PM

ATL

Hawks at Timberwolves

Wed. Mar 22 at 7:00 PM

LAL

Lakers at Timberwolves

Fri. Mar 31 at 7:00 PM

POR

Trail Blazers at Timberwolves

Sun. Apr 2 at 2:30 PM

NOP

Pelicans at Timberwolves

Sun. Apr 9 at 2:30 PM
Loge Boxes Seating Chart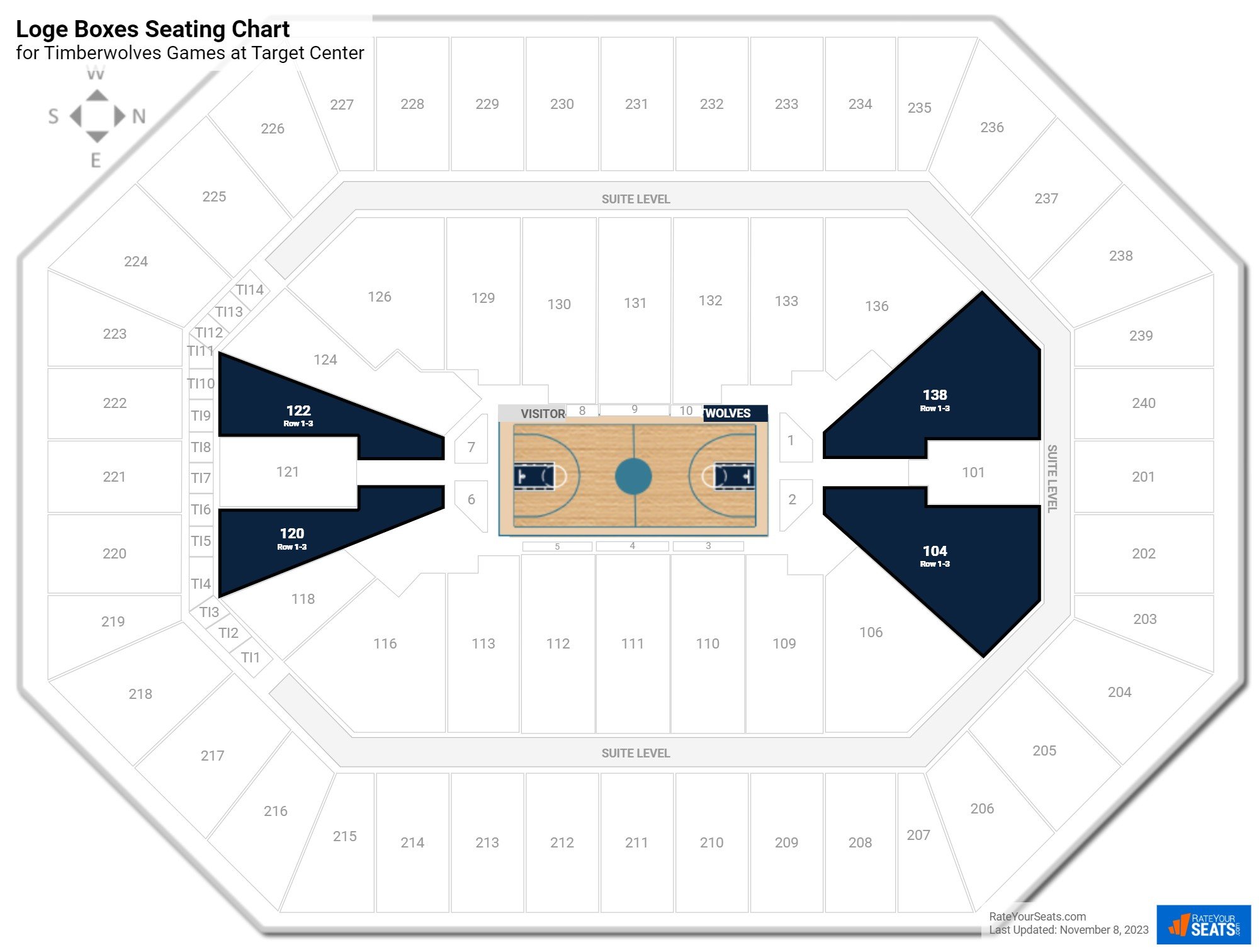 More Seating at Target Center
↑