Courtside Floor Seats at FedEx Forum
Features & Amenities
The best seats for a Grizzlies or Memphis Tigers game are in one of the six Courtside sections lining the floor. These seats are within three rows of the court and are some of the most enviable tickets in Memphis.
For Grizzlies games, Courtside ticketholders get access to the VIP Floor Seat Lounge. This is an all-inclusive space with complimentary food and beverage - including beer and wine. The Lounge also has dining tables, private restrooms, televisions and a full bar.
Courtside Seats Layout
Courtside 1 is opposite the player benches

Seats 36 and 37 are closest to center court

Courtside 6 is between the benches
All other sections are on the baseline (near the baskets)
Courtside sections have 2-3 rows of seats

Row 1 or Row A is the first row
Amenities available for basketball games. For other events, some amenities may not be available or offered.
Please note: Due to health and safety protocols in 2023, food availability, club access, wait service and other amenities are subject to change without notice.
Note: These seats are highlighted on the map
Interactive Seating Chart
Select Events
MEM

All Grizzlies Games

All Other Games
HOU

Rockets at Grizzlies

Wed. Mar 22 at 7:00 PM

HOU

Rockets at Grizzlies

Fri. Mar 24 at 7:00 PM

ORL

Magic at Grizzlies

Tue. Mar 28 at 7:00 PM

LAC

Clippers at Grizzlies

Wed. Mar 29 at 7:00 PM

LAC

Clippers at Grizzlies

Fri. Mar 31 at 7:00 PM

POR

Trail Blazers at Grizzlies

Tue. Apr 4 at 7:00 PM

Harlem Globetrotters

Sat. Apr 8 at 2:00 PM

QTR

HG1

TBD at Memphis Grizzlies (Round 1 - Home Game 1) (Date TBD) (If Necessary)

Sat. Apr 15 at Time TBA

MEM

TBD at Memphis Grizzlies (Round 1 - Home Game 2) (Date TBD) (If Necessary)

Tue. Apr 18 at Time TBA

MEM

TBD at Memphis Grizzlies (Round 1 - Home Game 3) (Date TBD) (If Necessary)

Mon. Apr 24 at Time TBA

MEM

TBD at Memphis Grizzlies (Round 1 - Home Game 4) (Date TBD) (If Necessary)

Fri. Apr 28 at Time TBA

MEM

TBD at Memphis Grizzlies (Round 2 - Home Game 1) (Date TBD) (If Necessary)

Mon. May 1 at Time TBA

SEMI

HG2

TBD at Memphis Grizzlies (Round 2 - Home Game 2) (Date TBD) (If Necessary)

Wed. May 3 at Time TBA

MEM

TBD at Memphis Grizzlies (Round 2 - Home Game 3) (Date TBD) (If Necessary)

Tue. May 9 at Time TBA

MEM

TBD at Memphis Grizzlies (Round 2 - Home Game 4) (Date TBD) (If Necessary)

Sat. May 13 at Time TBA

MEM

TBD at Memphis Grizzlies (Round 3 - Home Game 1) (Date TBD) (If Necessary)

Tue. May 16 at Time TBA

MEM

TBD at Memphis Grizzlies (Round 3 - Home Game 2) (Date TBD) (If Necessary)

Thu. May 18 at Time TBA

MEM

TBD at Memphis Grizzlies (Round 3 - Home Game 3) (Date TBD) (If Necessary)

Wed. May 24 at Time TBA

MEM

TBD at Memphis Grizzlies (Round 3 - Home Game 4) (Date TBD) (If Necessary)

Sun. May 28 at Time TBA

MEM

TBD at Memphis Grizzlies (NBA Finals - Home Game 1) (Date TBD) (If Necessary)

Thu. Jun 1 at Time TBA

MEM

TBD at Memphis Grizzlies (NBA Finals - Home Game 2) (Date TBD) (If Necessary)

Sun. Jun 4 at Time TBA

MEM

TBD at Memphis Grizzlies (NBA Finals - Home Game 3) (Date TBD) (If Necessary)

Tue. Jun 13 at Time TBA

MEM

TBD at Memphis Grizzlies (NBA Finals - Home Game 4) (Date TBD) (If Necessary)

Sun. Jun 18 at Time TBA
Courtside Floor Seats Seating Chart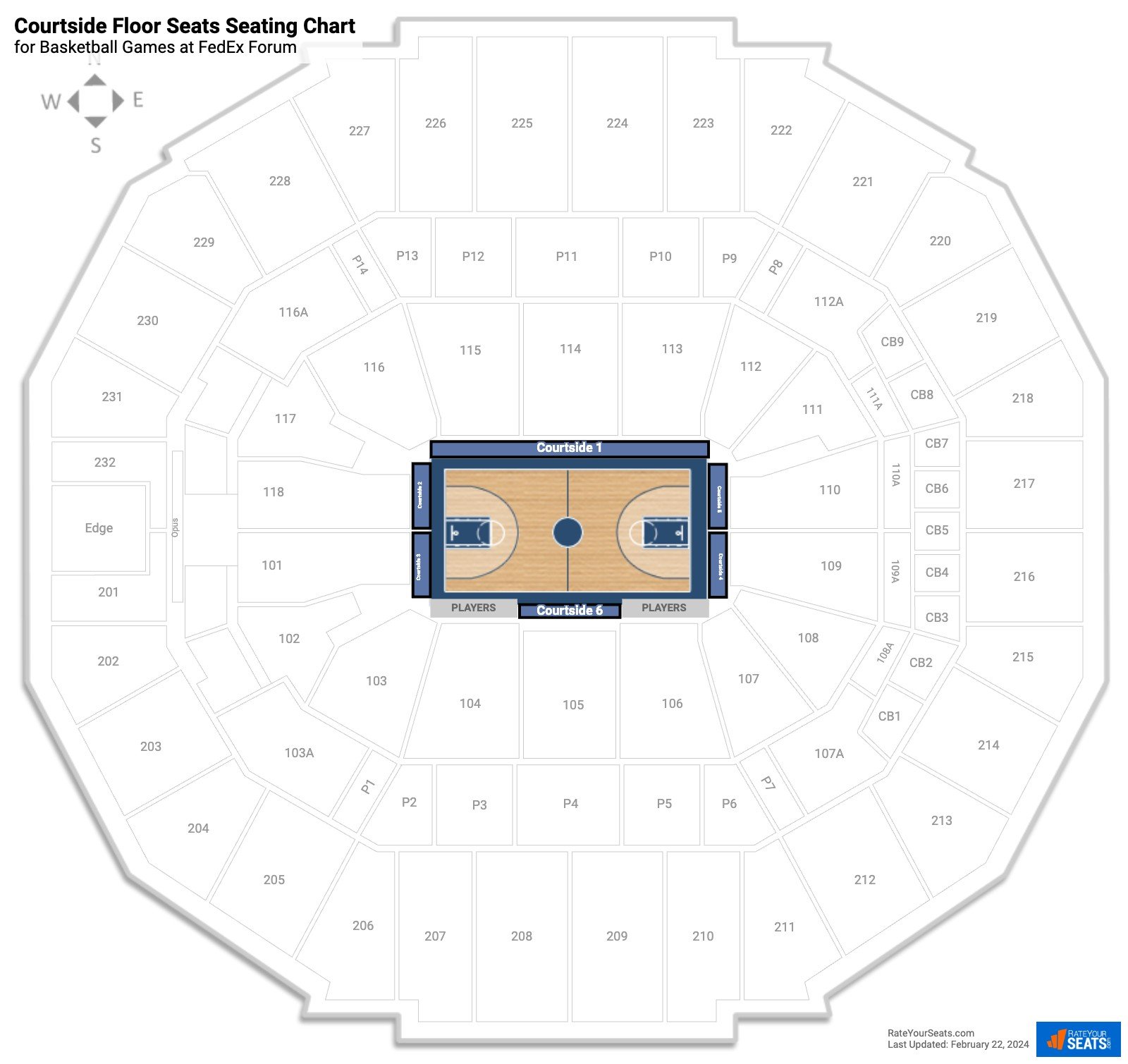 Courtside Floor Seats Reviews
More Seating at FedEx Forum
Event Schedule
Grizzlies
Other Basketball
Concert
Other
↑