Bommarito Lounge at Enterprise Center
Features & Amenities
While the Enterprise Center has no shortage of premium seating in the lower bowl, one of the newest additions - the Bommarito Lounge - should not be over-looked. The upper rows of sections 122 and 123 were removed to make way for tables and lounge boxes that over-look the ice.
The first three rows of seating in this area are known as the tables and include four chairs set at a half-moon ledge with room for food, drinks, phones and more.
The upper three rows are box seats and include over-size seating with shared table space between seats. Legroom is never an issue and you'll never feel too close to your neighbor.
If you want to spread out a bit more - or simply take a break between periods - you can head up the stairs to the ultra-modern reception area. With hightop tables and bar seating, this is a great place to entertain clients, catch up with friends of keep an eye on the rest of the action in the NHL.
For Blues games, food and drink are included in the ticket price. This includes chef stations within the lounge and beer from the bar. Premium beverages are also available for purchase.
Amenities available for Blues home games. For other events, some amenities may not be available or offered.
Please note: Due to health and safety protocols in 2022, food availability, club access, wait service and other amenities are subject to change without notice.
Note: These seats are highlighted on the map
Interactive Seating Chart
Select Events
CAR

Hurricanes at Blues

Thu. Dec 1 at 7:00 PM

WPG

Jets at Blues

Thu. Dec 8 at 7:00 PM

COL

Avalanche at Blues

Sun. Dec 11 at 2:00 PM

NSH

Predators at Blues

Mon. Dec 12 at 7:00 PM

TOR

Maple Leafs at Blues

Tue. Dec 27 at 7:00 PM

CHI

Blackhawks at Blues

Thu. Dec 29 at 7:00 PM

MIN

Wild at Blues

Sat. Dec 31 at 5:00 PM

CGY

Flames at Blues

Tue. Jan 10 at 7:00 PM

CGY

Flames at Blues

Thu. Jan 12 at 7:00 PM

TB

Lightning at Blues

Sat. Jan 14 at 7:00 PM

OTT

Senators at Blues

Mon. Jan 16 at 7:00 PM

NSH

Predators at Blues

Thu. Jan 19 at 8:00 PM

CHI

Blackhawks at Blues

Sat. Jan 21 at 7:00 PM

BUF

Sabres at Blues

Tue. Jan 24 at 7:00 PM

ARI

Coyotes at Blues

Sat. Feb 11 at 7:00 PM

FLA

Panthers at Blues

Tue. Feb 14 at 7:00 PM

NJ

Devils at Blues

Thu. Feb 16 at 8:00 PM

COL

Avalanche at Blues

Sat. Feb 18 at 1:00 PM

VAN

Canucks at Blues

Thu. Feb 23 at 7:00 PM

PIT

Penguins at Blues

Sat. Feb 25 at 2:30 PM

SEA

Kraken at Blues

Tue. Feb 28 at 7:00 PM

SJ

Sharks at Blues

Thu. Mar 9 at 7:00 PM

LV

Golden Knights at Blues

Sun. Mar 12 at 6:00 PM

MIN

Wild at Blues

Wed. Mar 15 at 8:30 PM

WPG

Jets at Blues

Sun. Mar 19 at 6:00 PM

DET

Red Wings at Blues

Tue. Mar 21 at 7:00 PM

VAN

Canucks at Blues

Tue. Mar 28 at 7:00 PM

BOS

Bruins at Blues

Sun. Apr 2 at 2:30 PM

PHI

Flyers at Blues

Tue. Apr 4 at 7:00 PM

NYR

Rangers at Blues

Thu. Apr 6 at 7:00 PM

DAL

Stars at Blues

Wed. Apr 12 at 6:30 PM
Bommarito Lounge Seating Chart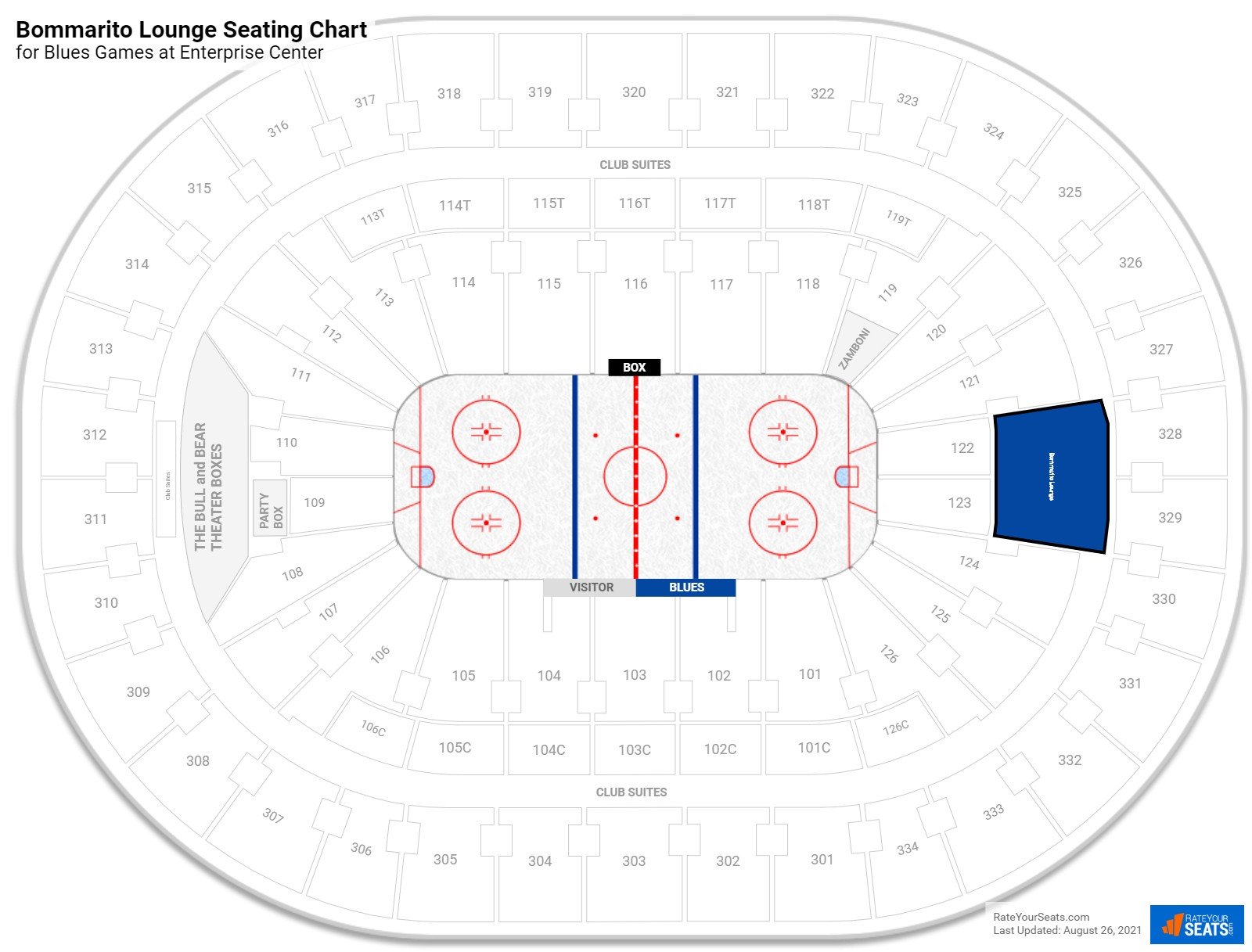 More Seating at Enterprise Center
Event Schedule
Blues
Concert
Other Basketball
Other
↑