Club Bell at Canadian Tire Centre
Features & Amenities
Located behind the net where the Senators attack twice, the impressive Club Bell seats offer the most premium experience for a hockey game at the Canadian Tire Centre.
All Club Bell ticket holders will be treated to a private arena entrance, and will have access to the upscale Club Bell Lounge, offering all-inclusive food and non-alcoholic beverages.
Different Types of Seating

Seating is comprised of luxurious options which range between the plush and cushioned Luxe Seats (found in the double lettered rows of seating) and the unique Loge Seats which are comfortable elevated office-style seats with a personal ledge (found in rows L1-L39).
Amenities available for Senators home games. For other events, some amenities may not be available or offered.
Please note: Due to health and safety protocols in 2022, food availability, club access, wait service and other amenities are subject to change without notice.
Note: These seats are highlighted on the map
Interactive Seating Chart
Select Events
MTL

Canadiens at Senators

Sat. Oct 1 at 7:00 PM

BOS

Bruins at Senators

Tue. Oct 18 at 7:00 PM

WSH

Capitals at Senators

Thu. Oct 20 at 7:00 PM

ARI

Coyotes at Senators

Sat. Oct 22 at 4:00 PM

DAL

Stars at Senators

Mon. Oct 24 at 7:00 PM

MIN

Wild at Senators

Thu. Oct 27 at 7:00 PM

LV

Golden Knights at Senators

Thu. Nov 3 at 7:00 PM

PHI

Flyers at Senators

Sat. Nov 5 at 7:00 PM

VAN

Canucks at Senators

Tue. Nov 8 at 7:00 PM

NYI

Islanders at Senators

Mon. Nov 14 at 5:00 PM

BUF

Sabres at Senators

Wed. Nov 16 at 7:00 PM

NJ

Devils at Senators

Sat. Nov 19 at 1:00 PM

NYR

Rangers at Senators

Wed. Nov 30 at 7:00 PM

SJ

Sharks at Senators

Sat. Dec 3 at 7:00 PM

LAK

Kings at Senators

Tue. Dec 6 at 7:00 PM

ANA

Ducks at Senators

Mon. Dec 12 at 7:30 PM

MTL

Canadiens at Senators

Wed. Dec 14 at 7:00 PM

WSH

Capitals at Senators

Thu. Dec 22 at 7:00 PM

DET

Red Wings at Senators

Fri. Dec 23 at 7:00 PM

BOS

Bruins at Senators

Tue. Dec 27 at 7:00 PM

BUF

Sabres at Senators

Sun. Jan 1 at 7:00 PM

CBJ

Blue Jackets at Senators

Tue. Jan 3 at 7:00 PM

SEA

Kraken at Senators

Sat. Jan 7 at 7:00 PM

NSH

Predators at Senators

Mon. Jan 9 at 7:30 PM

PIT

Penguins at Senators

Wed. Jan 18 at 7:00 PM

WPG

Jets at Senators

Sat. Jan 21 at 7:00 PM

NYI

Islanders at Senators

Wed. Jan 25 at 7:00 PM

OTT

Montreal Canadiens at Ottawa Senators

Sat. Jan 28 at 7:00 PM

EDM

Oilers at Senators

Sat. Feb 11 at 12:30 PM

CGY

Flames at Senators

Mon. Feb 13 at 7:30 PM

CHI

Blackhawks at Senators

Fri. Feb 17 at 7:00 PM

OTT

St. Louis Blues at Ottawa Senators

Sun. Feb 19 at 2:00 PM

DET

Red Wings at Senators

Tue. Feb 28 at 7:00 PM

CBJ

Blue Jackets at Senators

Sat. Mar 4 at 7:00 PM

COL

Avalanche at Senators

Thu. Mar 16 at 7:00 PM

TOR

Maple Leafs at Senators

Sat. Mar 18 at 7:00 PM

TB

Lightning at Senators

Thu. Mar 23 at 7:00 PM

FLA

Panthers at Senators

Mon. Mar 27 at 7:00 PM

PHI

Flyers at Senators

Thu. Mar 30 at 7:00 PM

TOR

Maple Leafs at Senators

Sat. Apr 1 at 7:00 PM

TB

Lightning at Senators

Sat. Apr 8 at 7:00 PM

CAR

Hurricanes at Senators

Mon. Apr 10 at 7:00 PM
Club Bell Seating Chart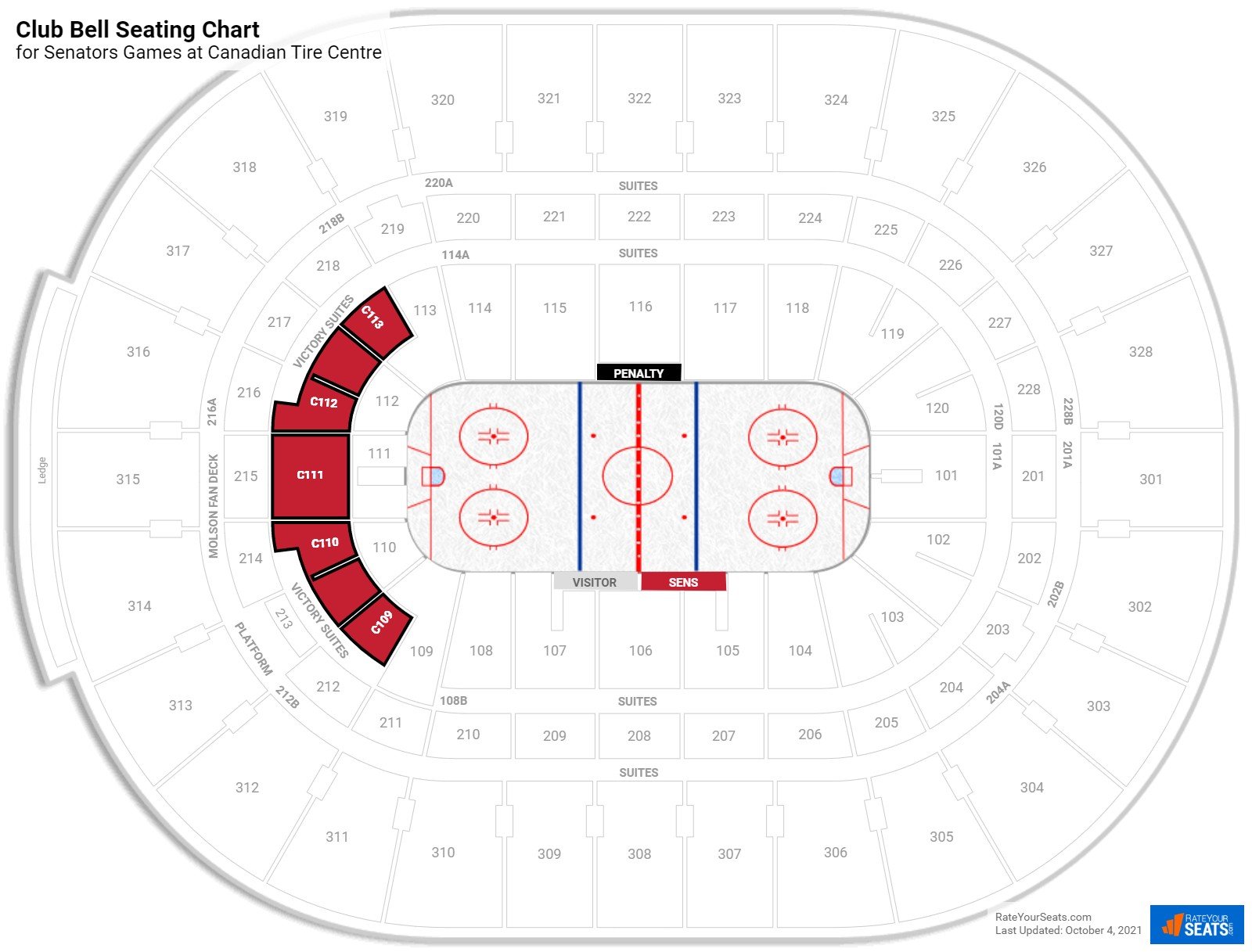 More Seating at Canadian Tire Centre
↑