Roads to Avoid, Parking, and Where to Tailgate at 'The Big House'
Michigan Stadium, more commonly referred to as The Big House, doesn't get its name from just anywhere. With a capacity of roughly 115,000, The Big House is the biggest stadium in the United States and second-largest in the entire world. However, with these record crowds come record number of people, all flooding into the small city of Ann Arbor. The un-iformed fan has the potential for a miserable visit to The Big House and not just because the Wolverines decided to show their team no mercy. For maximum enjoyment, a plan is essential. This post looks to provide some useful information when visiting The University of Michigan on a Saturday during the Fall.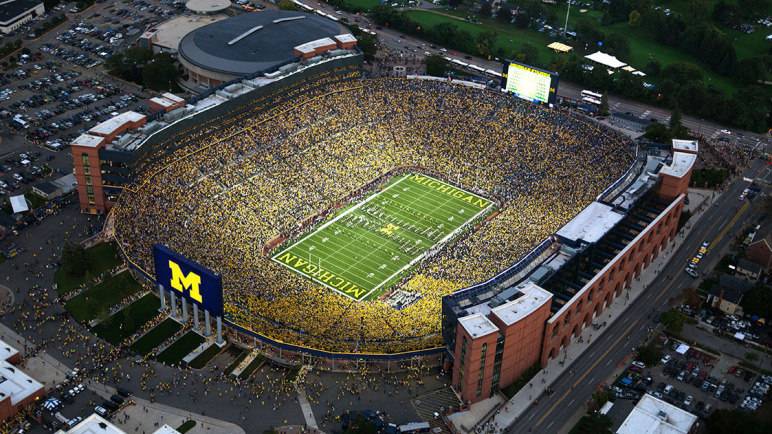 Roads to Avoid
If I had to pinpoint the main area of contention/frustration when it comes to football Saturdays in Ann Arbor, it would be the drive into the city. Ann Arbor is a small city, riddled with stoplights that take way to long to turn green and roads with single lanes in each direction. When the city is already packed during the standard day, you can imagine what happens when an additional 100,000 try to pack in. Below are some suggestions on ways to avoid the logjam and make it to the Big House by kickoff.
Drive in Early / The Night Before.
Feel free to skip to the next section of this post if you just follow that one simple rule. Driving in far before the rush is THE ONLY verified method to avoid the Saturday morning gameday rush. Hell, after laying out my suggestions below, my discrete backstreets may become just as packed. Drive in the night before. Additionally, Friday nights in Ann Arbor aren't too bad either.
Arriving from the North
If driving in from the North, you'll most likely take US-23 south. The amount of tense family memories I have stuck on this cursed highway still haunts me to this day. Most people (like my family) will take US-23 south until exit 3 for Downtown Ann Arbor. This exit funnels the already jammed two-lane highway onto a single road called Main St.
There's a slight moment of elation when finally making it off US-23, thinking "right on, we've made it." Wrong.
From exit 3, you still have to drive all the way through the over-crowded downtown Ann Arbor, on a single lane road with multiple stoplights. This can take up to 30-45 minutes after you just sat on US-23 for who knows how long. I CANNOT STRESS THIS ENOUGH, avoid exit 3 and Main St. at all costs.
Instead, hop-off at Exit 4, towards Whitmore Lake Rd / Barton Dr. This lets you off on the north side of Huron River which provides great separation from Main St. The objective here is to make your way east of Ann Arbor proper and then slowly work your way back towards your tailgate destination. After getting off at exit 4, you want to turn left and head east on Barton Dr.
What I love about this shortcut is there are far fewer stoplights. Once you hit Plymouth, turn right and head south for a short period of time. Before crossing the river, you want to head east one more time on Maiden Ln. After Maiden Ln. crosses the river, turn right on Fuller Rd. then left on Huron St. From here, you've made it to Washtenaw Ave! You can take this diagonal street as far south-east as needed to reach your parking/tailgate destination.
Arriving from the South
If driving in from the true south, you'll most likely be on US-23 north. Google Maps loves to suggest getting off US-23 north and hopping on I-94 West. While this is the quickest way when there is no traffic, I would not suggest this on a game day. Off I-94 West, the two main exits towards Ann Arbor are exit 177 (State St.) and exit 175 (Saline Rd). Both of these streets get crazy-packed prior to football games. Instead, stay on US-23 North and get off at 37B towards Ann Arbor. This will get you heading west on Washtenaw Ave. Follow Washtenaw or E. Stadium Blvd as needed to reach your parking/tailgate destination.
Arriving from the West
Coming in from this direction is the most variable. Fans will most likely take I-94 east for the majority of their trip. Eventually, you'll hit a fork in the highway where you have 3 options:
1) Take exit 171 towards Plymouth. This places you on M-14 north. The key here is to get off at exit 2 towards Miller Ave. If you miss exit 2, you'll be stuck in the same jam as the fans arriving from the north.
2) Stay on I-94 towards Detroit. This gives you the same options outlined in arriving from the south. You could try exit 175 or 177 or simply merge onto US-23 north and get off at 37B.
3) Take exit 172 towards Ann Arbor. This feeds you into Jackson Ave. From Jackson, you can choose to head south down Stadium Blvd. or stay north on Huron. St.
All of these routes have the potential to be really great or really bad. If I had to choose, my vote would be option 3. That said, compare each route with your main parking/tailgate destination and base your decision off of that.
Arriving from the East
Coming off I-94 heading west, my suggestions parallel what I mentioned above for fans arriving from the south. Avoid exits 177 and 175. Instead, take exit 180B towards Ann Arbor which will put you on US-23 north. Once on US-23 north, take exit 37B which will point you west on Washtenaw Ave. Follow this road as needed.
Parking
Finding the most ideal parking spot is heavily based on individual preference. Many who visit The Big House frequently will have their "go-to" lot that works best for them for x, y, and z reasons. In general, the main factors to take into account when looking for parking are the following:
How far do you want to walk? / How much are you willing to pay?

A standard rule of thumb: the closer you are to the stadium, more expensive it will be


Where are you driving in from?

If driving in from the west, it would be silly to park on the east side of campus

Where do you plan on tailgating?

Minimize the distance you have to carry that cooler

How quickly do you want to leave after the game?

Always clarify EZ-out or NO EZ-out, nothing worse than leaving the game early in the 4th to find your car stuck behind six others
Listed below are the four main areas to find parking near Michigan Stadium
1) Yard Parking
This is one of the easiest ways to find parking near the Big House. West of Main St. between Liberty and Stadium + East of State street between Hill and Stadium are the two main areas where you'll find people sacrificing their yards.
The best move is to find a consistent yard to frequent. Sharing a beer with the homeowner is a great way to build a friendship and you may be able to set up a deal where the homeowner will save you a spot in their yard for future games.
Prices can vary. I'd suggest bringing $60 in cash just to be safe. Always clarify the stipulations. Yard Parking is the most likely location to get blocked in.
2) Tailgate Lots
The two main tailgate lots are located at Pioneer High School and the University of Michigan Golf Course (I'll break both down more thoroughly in the tailgate section below).
Both of these lots are expensive ($40-60 per car) but there are some major benefits. Typically cars won't be blocked in, you can tailgate out the back of your car, and the walk from these two lots to the Big House is at most 10 minutes. However, the difficultly arises in making it to the tailgate lots. Everyone and their brother tries to get a spot in one of these lots and for this reason, traffic near them is packed.
3) Big House Permit Parking
The closest parking near the Big House is the Champions North, Champions East, and Blue Lots. All of these lots are permit only and how these permits are obtained is beyond my scope of knowledge. If I had to guess, access to these lots is packaged for valued season ticket holders and University of Michigan faculty/alumni. Sometimes these permits appear on secondary ticket marketplaces but always verify that the permits are legit and in a location that you are looking for.
4) Parking Garages
There are a good number of parking garages north of campus near downtown Ann Arbor. The benefit of these spots are that you will not be blocked in and can typically pay with a credit/debit card. These are also great options if you plan to pregame downtown.
The downside is that they are all a far walk from the stadium (30 minutes minimum). Additionally, it is hard to predict whether a garage still has spots available when you arrive in the city. There would be nothing worse than driving into the thick of downtown traffic just to discover all the lots are full.
If I had to suggest a specific lot it would be the Catherine St. Parking Structure. This is one of the furthest structures from the stadium but you won't get stuck in the downtown traffic trying to get there.

Tailgating
Waking up early on a Saturday morning and tailgating was one of my favorite aspects of attending the University of Michigan. The energy felt on campus and near the Big House is special, and something I hope everyone gets the chance to experience. That said, there are many different ways to tailgate prior to a Michigan football game depending on the vibe you're going for.
One important aspect to keep in mind is that UofM is very restrictive on open drinking on campus even for fans that are of age. Most of the tailgating takes place either south of campus (specifically south of hill street) or within downtown. Listed below are the main areas to get loose prior to the game: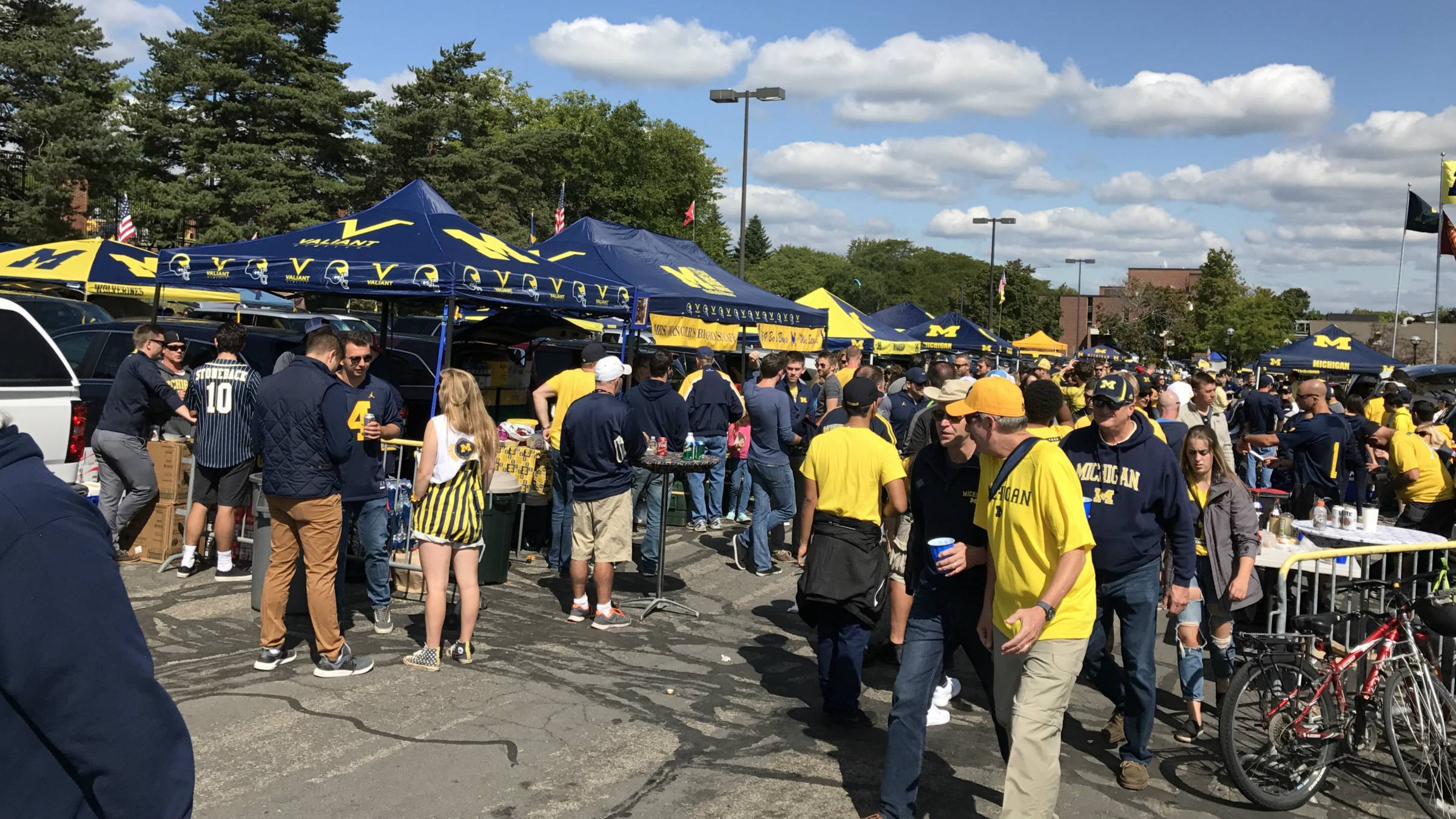 1) Pioneer High School
I'd argue this is the most desired location to tailgate for fans driving in from out of town. Pioneer High School sits kiddy-corner to Michigan Stadium and is less than a 5-minute walk from the game.
The lot fills up fast as it is the closest non-permit lot that allows RVs. Additionally, Pioneer High School doesn't over-pack its lot. Most game days it will be filled far before the game begins.
Even if you're not able to get a spot parking at Pioneer, fans are still able to walk over to join established tailgates. This is a great tailgate lot that isn't overbearing but still gets rowdy.
2) Hill St.
Start at the corner of Washtenaw and Hill, walk west, and follow the music. This is definitely an experience aimed more towards college students or fun parents, but still worth it for the spectacle.
Many parties near Hill St. kick off around 7 AM and typically go until the game starts or they get shut down. Different parties vary in terms of acceptance and risk. Avoid the "who-do-you-know-here's" and bounce around. If you're not trying to experience this mentality all afternoon, the Hill st. tailgates are on the way to the stadium if walking from the north/east. Usually a great stop for a free ice-cold Hams before kickoff.
3) University of Michigan Golf Course
The Michigan Golf Course is the largest centralized area to tailgate prior to a Michigan football game. The setup feels very SEC with flags, cornhole, and music everywhere.
The downside of tailgating on the golf course is that it is gigantic. Fans can enter/park off of Stadium Blvd, State St. or Main St. Meeting up with friends can be an absolute nightmare if situated on opposite sides of the course, especially with the shotty service caused my far too many cellular devices in such a confined area. That said, this tailgating location is the most kid-friendly. With so much space, families can position individual tailgates away from obnoxious groups. Do be aware of the expected delays leaving this area post-game.
4) Downtown Ann Arbor
If all else goes to hell and you don't feel like coordinating a tailgating effort, fans can always barhop in downtown Ann Arbor and around the University of Michigan Diag. Ann Arbor boasts more than 100 bars and restaurants around the small city so fans are sure to find a spot they love. Aside from up and down State and Main st., there are a good handful of bars off found on S. University as well.
Those are all the insider secrets you get! Now that you have a better idea on how to maximize your gameday experience begin your search for University of Michigan football games.