Visitor Section (Football) at Carrier Dome
For football games, visiting fans at the Carrier Dome have seats in sections 109 and 110. Visitors may also want to consider sections 111, 112, 313 and 314 where overflow visitor seating is found.
Seating designations apply to Array and Syracuse home games. For other events, these designations may not apply.
Note: These seats are highlighted on the map
Interactive Seating Chart
Visitor Section (Football) Seating Chart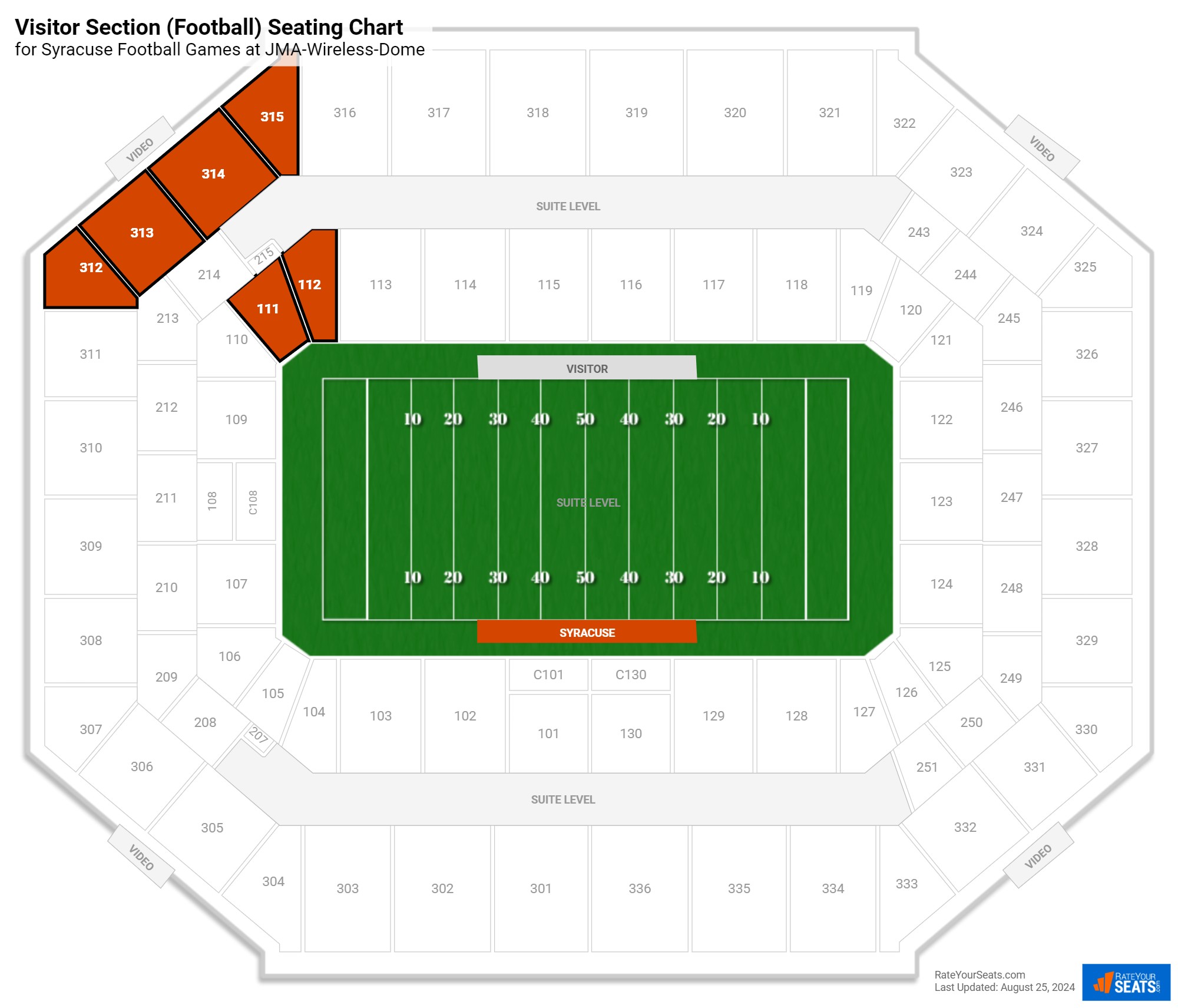 Visitor Section (Football)
More Seating at Carrier Dome
Event Schedule
Clemson Tigers at Syracuse Orange Football

Carrier Dome - Syracuse, NY

Saturday, September 30 at 12:00 PM

Daemen College Wildcats at Syracuse Orange Mens Basketball

Carrier Dome - Syracuse, NY

Friday, October 27 at 7:00 PM

Saint Rose Golden Knights at Syracuse Orange Mens Basketball

Carrier Dome - Syracuse, NY

Wednesday, November 1 at 7:00 PM

Boston College Eagles at Syracuse Orange

Carrier Dome - Syracuse, NY

Friday, November 3 at 7:30 PM

New Hampshire Wildcats at Syracuse Orange Mens Basketball

Carrier Dome - Syracuse, NY

Monday, November 6 at 7:00 PM

Canisius Golden Griffens at Syracuse Orange Mens Basketball

Carrier Dome - Syracuse, NY

Wednesday, November 8 at 7:00 PM

Colgate Raiders at Syracuse Orange Mens Basketball

Carrier Dome - Syracuse, NY

Tuesday, November 14 at 7:00 PM

Wake Forest Demon Deacons at Syracuse Orange Football

Carrier Dome - Syracuse, NY

Saturday, November 25 at Time TBA

LSU Tigers at Syracuse Orange Mens Basketball

Carrier Dome - Syracuse, NY

Tuesday, November 28 at 7:00 PM

Cornell Big Red at Syracuse Orange Mens Basketball

Carrier Dome - Syracuse, NY

Tuesday, December 5 at 8:00 PM

Niagara Purple Eagles at Syracuse Orange Mens Basketball

Carrier Dome - Syracuse, NY

Thursday, December 21 at 7:00 PM

Pittsburgh Panthers at Syracuse Orange Mens Basketball

Carrier Dome - Syracuse, NY

Saturday, December 30 at 12:00 PM

Boston College Eagles at Syracuse Orange Mens Basketball

Carrier Dome - Syracuse, NY

Wednesday, January 10 at 9:00 PM

Miami Hurricanes at Syracuse Orange Mens Basketball

Carrier Dome - Syracuse, NY

Saturday, January 20 at Time TBA

Florida State Seminoles at Syracuse Orange Mens Basketball

Carrier Dome - Syracuse, NY

Tuesday, January 23 at 7:00 PM

North Carolina State Wolfpack at Syracuse Orange Mens Basketball

Carrier Dome - Syracuse, NY

Saturday, January 27 at 7:00 PM

Louisville Cardinals at Syracuse Orange Mens Basketball

Carrier Dome - Syracuse, NY

Wednesday, February 7 at 7:00 PM

Clemson Tigers at Syracuse Orange Mens Basketball

Carrier Dome - Syracuse, NY

Saturday, February 10 at 12:00 PM

North Carolina Tar Heels at Syracuse Orange Mens Basketball

Carrier Dome - Syracuse, NY

Tuesday, February 13 at 7:00 PM

Notre Dame Fighting Irish at Syracuse Orange Mens Basketball

Carrier Dome - Syracuse, NY

Saturday, February 24 at 12:00 PM