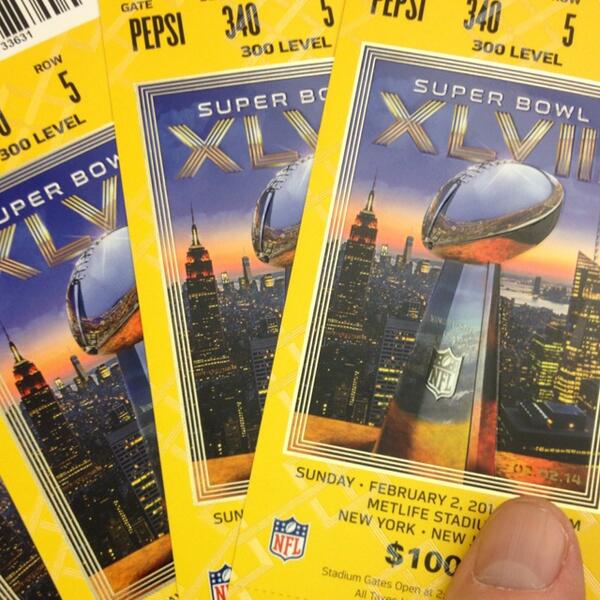 Image courtesy of @NFLprguy
On This Page
Recommended Links
Where Not to Buy Super Bowl Tickets
Mr. NFL PR Guy (who showed off the tickets above on Twitter) has been pretty busy over the last few days, warning fans of the dangers of buying Super Bowl tickets from illegitimate sources. And for good reason -- it's high time for scammers, especially when you consider the high prices of tickets. So where are most scammers hanging out, and how can you spot them?
(for the record, this NFL PR nightmare was the worst scam-job of them all)
Don't Buy $5,000 Tickets on Craigslist
First, check out this article from a fan who went through the whole experience first-hand. Second, go back to that article and read again where it says don't buy tickets from Craigslist. The Internet has created the safest ticket marketplaces in the world. Ones with money-back guarantees and fraudulent ticket protection. For example, each one of our ticket partners offers 100%+ money-back guarantee on all purchases. If you end up having to spend a couple extra dollars, consider it your insurance policy.
Be Careful Buying Near MetLife Stadium on Gameday
Buying tickets outside of the stadium carries the exact same risks as going through Craigslist. And it's a shame, too, because legitimate tickets being sold outside the stadium just before kickoff are usually the best bargain -- by far. Darren Rovell even mentions how he got a Super Bowl ticket for $100 about ten years ago. He also mentions how a single woman was caught selling more than 100 fake Super Bowl tickets in 2006.
If you're not convinced and still want to take the risk, at least keep the following in mind:
Real sellers are selling for a profit - their prices will be high, just like StubHub and the tickets you find on RateYourSeats.com
Pregnancies aren't expected to rise in NYC -- so when you read your eighth story on Craigslist about the guy who has to sell his Super Bowl tickets because his pregnant wife is forcing him to, it's time to get suspicious
Use our MetLife Stadium Super Bowl Seating Guide and Interactive Seating Chart to avoid getting duped into obstructed or bad views
Why Tickets Are So Expensive
Sick and tired of a million articles on why tickets are so expensive? (You would be if you had a google alert set for "super bowl tickets")
There are so many articles that they can't even agree on a simple fact: Are ticket prices going up or down? The screenshot below is from a search for "super bowl ticket prices". CBS thinks they're up 18% and Bloomberg thinks they're trending down.

Whatever the case, tickets are expensive enough that one fan is trying to sue the NFL over high prices! Here's breakdown of what's causing so much reaction to Super Bowl ticket prices:
Secondary Ticket Market Prices
First, it's important to keep in mind that all prices you're seeing this time of year are secondary market prices. This means that the tickets have already been bought once. Every seller of every available ticket is trying to turn a profit.
List Price vs. Sales Price
Second, most reported ticket prices are listed prices. That million-dollar suite that has everyone up in arms -- it's not going to sell. There are plenty of suites listed at half that price.
Ticket Allotments
And then of course there are the allotments, which many people have been writing about. A little over 1% of all tickets were available for sale to the public. And those fans had to enter a lottery between February and June -- long before anyone knew who the final two teams were going to be. The Broncos and Seahawks each received about 14,000 tickets, well below the number of season tickets each team sold this year. As always, the demand for tickets far surpasses those available through the cheapest means (winning a season-ticket holder lottery or the NFL lottery).
Reports of a "Soft" Market (Good for Buyers!)
Finally, it's worth noting that many reports are indicating the market is softer than expected. Early ticket prices were based upon a prediction of the market. Now that the market is reporting "soft", sellers will most likely lower their prices to once again create a higher demand.
Getting Good Seats vs. Getting Stuck With Bad Seats
The photo of Super Bowl tickets at the top of this page are in Section 340, Row 5. Those are 30 yard-line seats, right at the concourse tunnel. Pretty good seats for the upper level, right? Wrong!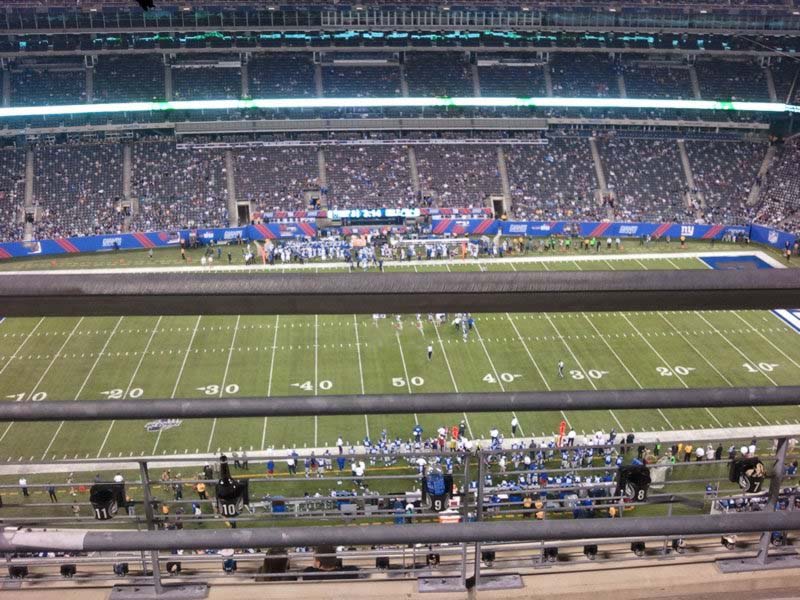 I sure hope that's not where the NFL stuck Mr. NFL PR Guy. If so, he's in for a view very similar to the one shown above. That's Row 5 on the opposite side of the field. Notice the lovely railing!
We point this out because many fans are going to be shelling out $2,000+ for tickets at MetLife Stadium. And as is the case in most stadiums, there's a big difference between good seats and bad seats. And we're not just talking about the Lower Level being better than the Upper Level. Heck, sitting in Row 12 of Section 340 will give you a way better view of the game and Bruno Mars/RHCP than sitting in Row 6 of Section 108.
So if you are planning on going to the game, please, please do yourself a favor and read our Super Bowl Seating Guide. We prepared heavily for a cold-weather Super Bowl at MetLife stadium. We even created filters for the warmest seats and covered seats on our Super Bowl Tickets page to help fans get the most out of their money.