Courtside Club at AT&T Center
Features & Amenities
Courtside Club tickets are hands-down the best seats at a Spurs game. These seats are within three rows of the court and the first row in each section sits with their seat on the hardwood.
Club Access

Ticketholders will have access to two exclusive clubs. The first is the Saddles and Spurs Club, which is the primary lounge area for Charter Level ticketholders.
Guests will also have access to the Xerox Courtside Club, which is the dedicated space for Courtside Club ticketholders. This is an all-inclusive space with a complimentary chef's table and included beer, wine and soft drinks. Fans can also text for drink service directly at their seats.
Courtside Club Views

Besides for an all-inclusive experience, Courtside Seats come with one of the most impressive views of the game from a few different vantage points:
Courtside Club Sections 6 and 10 are located between the player benches
Sections 2, 14, 16 and 28 are on the baseline
Sections 20-24 are on the sideline facing the players
Amenities available for Spurs home games. For other events, some amenities may not be available or offered.
Please note: Due to health and safety protocols in 2023, food availability, club access, wait service and other amenities are subject to change without notice.
Note: These seats are highlighted on the map
Map Highlighting

Select rows in section are part of this seating zone
Interactive Seating Chart
Courtside Club Seating Chart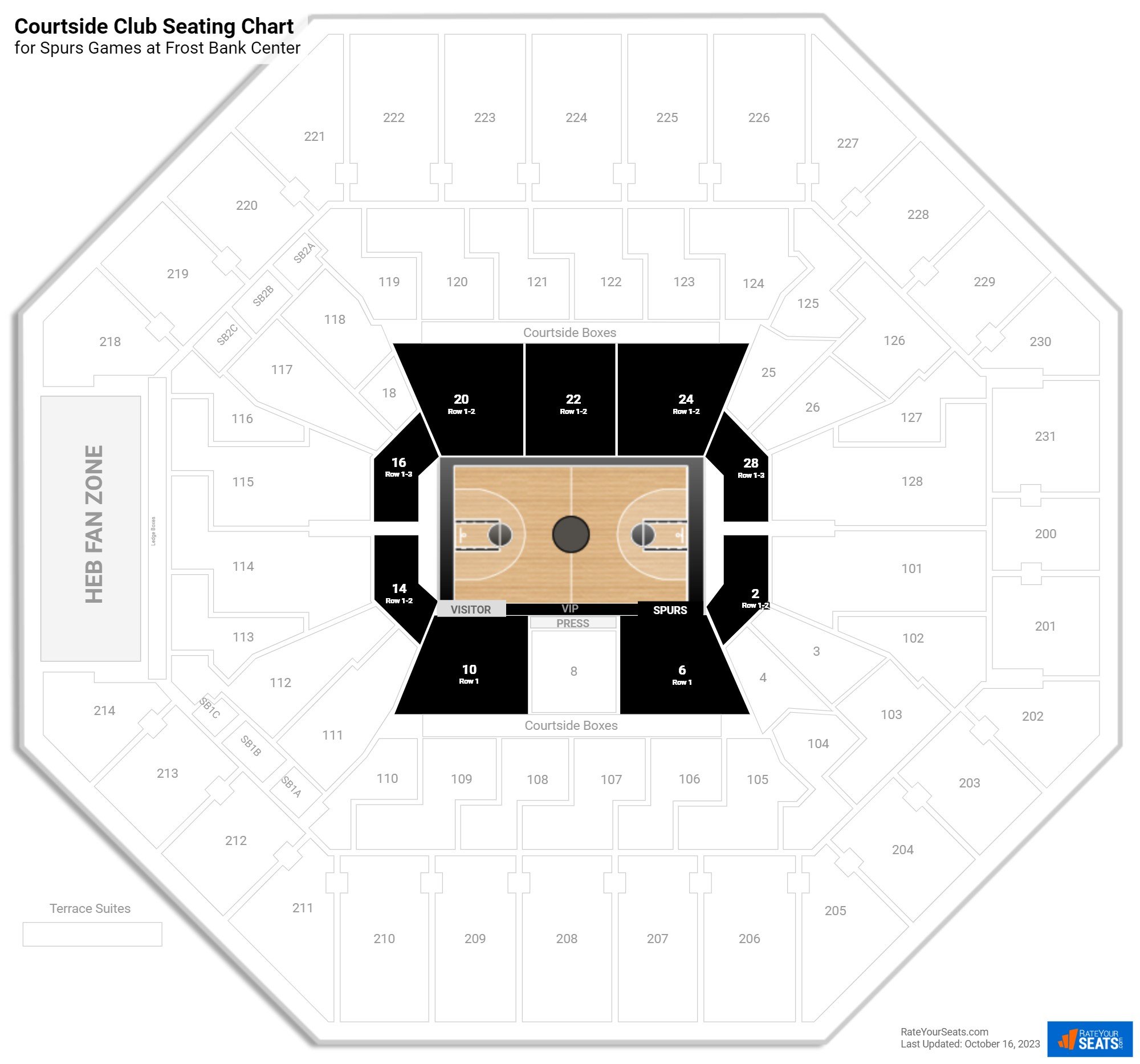 Courtside Club Reviews
Ratings & Reviews From Similar Seats

"Amazing midcourt views but expected more from club seats"

(Section 22) - -

It doesn't get much better for being right at the middle of the floor. The center line was just a few seats to my left and I had an incredible viewing position to take in the game. Incredibly close to the floor and great sight lines to watch the players and coaches on the benches as well. You are...

"HORRIBLE!"

(Section 6) - -

We paid over $350 a piece for tickets to see Cher at the AT&T center. We thought we were getting great seats on the lower level. They were the worst seats I've ever had for a concert. The AT&T center is a basketball arena. The seating chart on the stubhub website does not accurately indicate how...

"Directly across from the Spurs bench"

(Section 24) - -

Not only was my seat impressively close to the floor, but I was also right across the floor from the Spurs bench! But prepared to look skyward if you want to check out anything on the scoreboard, but otherwise these seats are sure to impress being so close to all the action. When the play is at th...
More Seating at AT&T Center