Club Infield at American Family Field
Features & Amenities
Club Level seats at American Family Field are an excellent way to maximize your experience at a Brewers game. Club Infield seats offer an opportunity to have pristine behind home plate views in sections 328-331. You will be directly above the press box in these seats, so be prepared to see the entire field in a similar way as Bob Uecker and the broadcasters do.
Club Infield sections 338-343 will have excellent views down the third base line. While those with club infield seats in sections 314-320 will have great views down the first base line. In addition, these premium seats not only give fans a great vantage point to all the action on the field, but also offer just 7 rows of seating per section making it the most convenient location for getting in and out for trips to the restrooms and concessions.
Club Level Infield box seating includes in-seat wait service and access to the SKYY Lounge where fans can enjoy large open lounge area seating in a climate-controlled covered common area.
The SKYY Lounge features upscale food and drink options as well as lounge-style seating for Club and Suite Level ticket holders at American Family Field.
Amenities available for Brewers home games. For other events, some amenities may not be available or offered.
Please note: Due to health and safety protocols in 2021, food availability, club access, wait service and other amenities are subject to change without notice.
Note: These seats are highlighted on the map
Interactive Seating Chart
Club Infield Seating Chart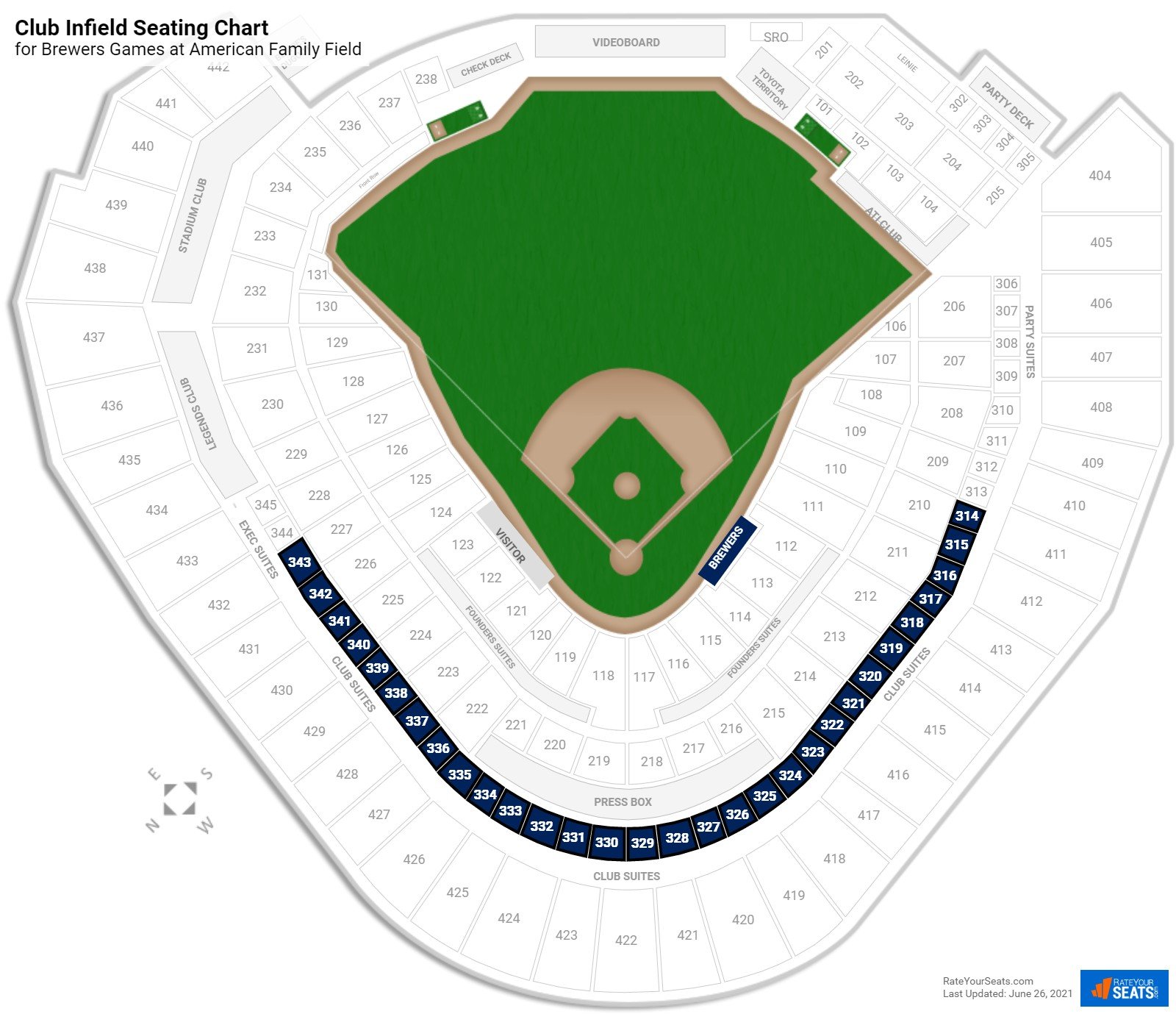 Club Infield Reviews
Ratings & Reviews From Similar Seats

"San Diego Padres at Milwaukee Brewers - Sep 16, 2019"

(Section 340) -

"Cushioned Seats Bad View "

(Section 329) - -

You would think row 1 would be great not so much. If you sit back in your seat you can't even see home plate. These seat are just at a bad angle and the led sign also blocks your view. Most of the game I had to sit on the edge of my seat to be able to enjoy the game. I would not purchase row 1 clu...

"Chicago Cubs at Milwaukee Brewers - Jul 28, 2019"

(Section 338) - -

Great view of the field and close to an aisle. Full afternoon sun in this location.
More Seating at American Family Field