Oakland Coliseum Baseball Seating
Topics
Seats Behind Dugouts
Rows in a Section
Need Help?

Ask a Question!
What Amenities Are Included With Club Seats?
Diamond Level: The best seats at an A's game are located directly behind home plate in what is known as the Diamond Level. While not technically on a level of its own, the amenities included with these seats set them far apart from the rest of the seating at the Coliseum. Tickets for Oakland Athletics games comes with all you can eat food from the exclusive Diamond Level menu. In addition, fans will enjoy two complimentary alcoholic beverages and will walk through the visiting team tunnel to access their seats.
Want to sit here? Read more about Club and Premium Seating ▶
Shaded/Covered Seating
Choose Seats Behind Home Plate in 100 or 200 Levels for Shade. Shade is at a premium at the Oakland Coliseum for baseball. Upper deck seats behind home plate are exposed, but the sun is behind these seats during late afternoon and evening games. Choose seats in sections 213-221 behind home plate or in rows 20 and above in sections 113-120 for your best chance at shade. Absolutely avoid all outfield seats at Oakland Coliseum if you are sensitive to the sun.
Looking For Shaded or Covered Seats?
We've got a new interactive tool for that!
Find Seats Now!
Recommended Seating
BEST FOR...
SEATS
COMMENTS
Children and Families
Section 220

Near the entrance to Stomper Fun Zone
Interactive area where children can test their pitch speed and try out the batting cages
Open every day in summer and weekends in Spring and Fall

Impressing a Guest
Sections 212, 213 and 214

Club level section with exclusive amenities
Access to club level and lounge
Receive a $10 voucher for food and concessions in the stadium

Partying and Socializing
Sections 134 and 150

Bleacher seating in the sun
Closest bleacher seats to beer stands and concessions
Inexpensive pricing leaves more money to indulge

Section BLCHR

Open seating for easy movement and socializing
Fan-organized cheering groups add to the atmosphere
More vocal and passionate crowd than the rest of the ballpark

Seeing the Action
Sections 216, 217 and 218

Home plate views of the field
Views of the LF and RF scoreboards
Not pushed back too far from the field
Seats to Avoid
NOT GOOD FOR...
SEATS
COMMENTS
Children and Families
Sections 232, 233 and 234

Long walk to nearest concessions
Sun will be an issue for afternoon and evening games
Restrooms are far, far away

Seeing the Action
Sections 200, 201 and 202

About as far away from home plate as you can get
Walk nearly halfway to home plate for concessions and restrooms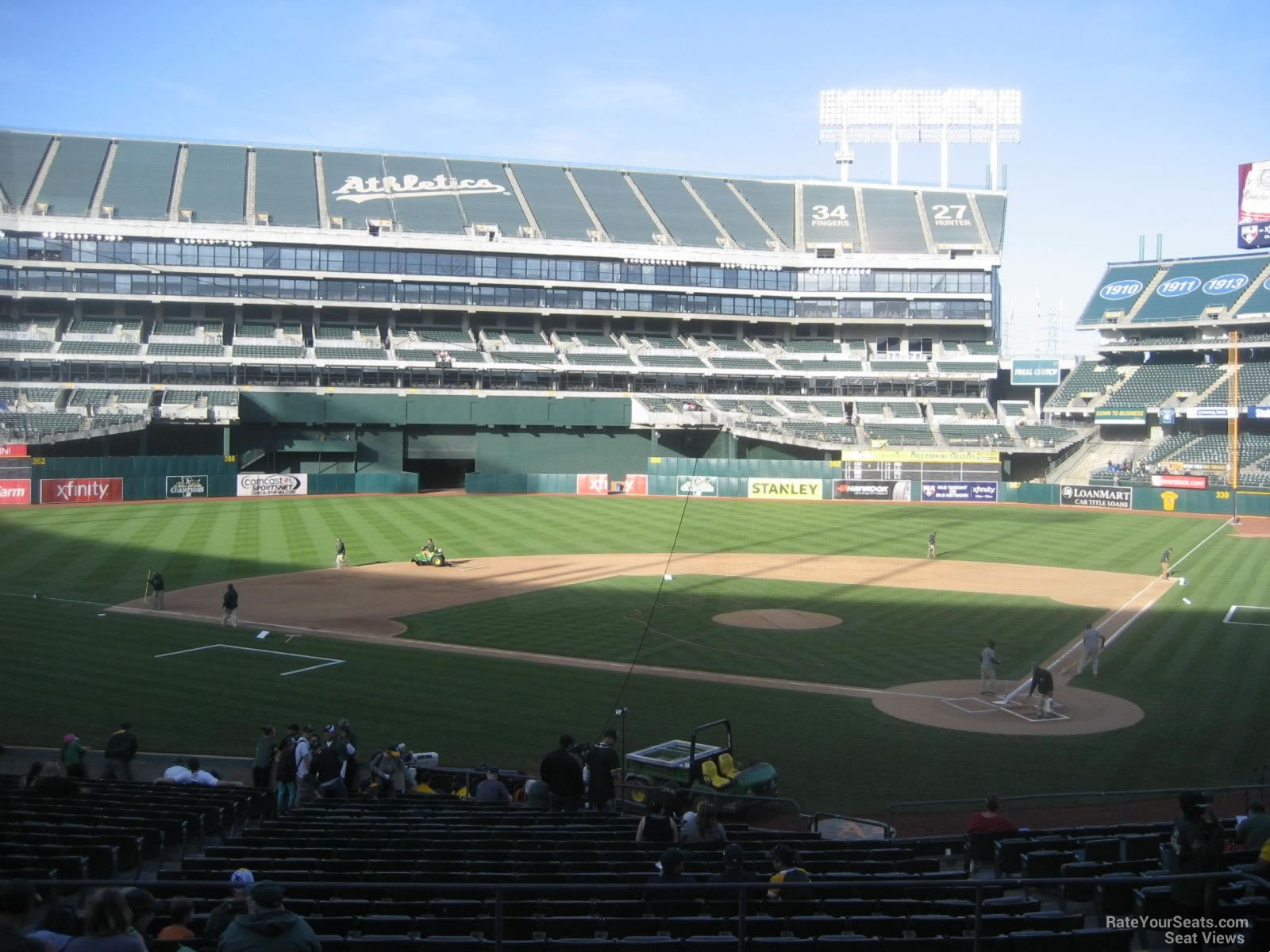 Frequently Asked Questions
Which side of the field is the Athletics dugout on?
Frequently Asked Question
The home dugout is located in front of Sections 119, 120 and 121. Meanwhile, the visiting team dugout is near Sections 112, 113 and 114.
How many rows are in each section at Oakland Coliseum?
Frequently Asked Question
Most sections have a different number of rows. If you have tickets, find your seats to see the seating chart for that section with rows. If you don't have tickets yet, select your desired event to see tickets directly on the seat map.
Are the field boxes the best seats to watch the game at Oakland Coliseum?
Frequently Asked Question