Scottrade Center Hockey Seating Guide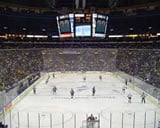 69 upcoming events
from $21
Find Tickets

Find the Best Seats
All Ratings & Reviews

Ask a Question
Get started
See the view from your seats
In-Seat Photos

Have Tickets?
Find your seats
Scottrade Center Tickets
Blues
Basketball
Concert
Other
Scottrade Center Hockey Seating Showing lowest price for all Blues games
Popular/Featured Seating
Seating by Location
Scottrade Center Frequently Asked Questions
Where can I find out how many rows are in my section at Scottrade Center?
Click over to our Scottrade Center seating chart with rows to find your section. Click your section to learn which is the first row in the section, how the rows are labeled and how many rows of seating are in the section.
Where is the Blues bench at Scottrade Center?
The Blues bench is located in front of Sections 102 and 103. The visiting team bench at Scottrade Center is in front of Sections 103 and 104. Our Scottrade Center Benches page will list all sections behind the benches and allow you to read reviews, see in-seat photos and buy tickets from these seats.
Which side of the ice do the Blues shoot twice?
There are 28 sections on the side of the ice where the Blues shoot twice. For a complete list of sections, and to see photos and buy tickets on this end of the ice, head to the Blues Shoot Twice page.
More Scottrade Center Seating