Progressive Field Baseball Seating Guide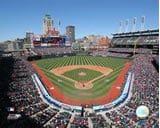 81 upcoming events
from $9
Find Tickets

Find the Best Seats
All Ratings & Reviews

Ask a Question
Get started

See the view from your seats
In-Seat Photos

Have Tickets?
Find your seats
Progressive Field Tickets
Progressive Field Baseball Seating Showing lowest price for all Indians games
Popular/Featured Seating
Seating by Location
Shaded and Covered Seating at Progressive Field
Third Base Side of Field Gets Shade First
Home plate at Progressive Field faces slightly Northeast, which means that seats on the third base side of the field will see shade first during late afternoon and evening games -- especially seats further down the 3B line (162-172). Right Field seats will see the sun the longest. In particular, sections 303-317 and 504-514 will be exposed until the sun sets completely under the stadium. The Upper Level overhang is little match during afternoon games, but it does help protect fans during the late afternoon and evening.
Progressive Field Frequently Asked Questions
Where can I find out how many rows are in my section at Progressive Field?
Click over to our Progressive Field seating chart with rows to find your section. Click your section to learn which is the first row in the section, how the rows are labeled and how many rows of seating are in the section.
Which side of the field is the Indians dugout on at Progressive Field?
The Indians dugout is located in front of Sections 164, 162 and 163. The visiting team dugout at Progressive Field is in front of Sections 140, 142 and 144. Our Progressive Field Dugouts page will list all sections behind the dugouts and allow you to read reviews, see in-seat photos and buy tickets from these seats.